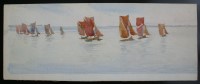 Watercolor on board, 10 x 26cm, unsigned and undated, purchased from the artist's nephew.
About the artist.
Frances Nesbitt (1864-1934) was a prolific painter of landscapes and genre. She was the daughter of an eminent surgeon, Francis Albert, and she trained at the Slade School of Art. She exhibited regularly at the leading London galleries from 1888, chiefly at the Royal Society of British Artists and the Royal Institute of Painters in Water-colours. She particularly loved painting boats, a subject to which her style was well suited, with her adeptness at capturing morning and evening light, and reflections on water. Frances spent much time sketching on the Suffolk coast, as well as at a multitude of other locations at home and abroad, as is evidenced in her sketchbooks. She was an excellent linguist and she travelled extensively in Europe with her mother, where she studied the history and architecture of each country they visited. The two spent some time in North Africa, and Frances wrote and illustrated an A. and C. Black publication, 'Algeria and Tunis', published in 1906, for which she produced seventy watercolours. Her Middle Eastern paintings are particuarly sought after.
Reverse of the painting indicates that the artist employed OWP Ordinary Pasteboard to paint her designs. O.W. Paper & Arts Co. Ltd of 105 Great Russell Street, London. The company was started in 1895 by JW North A.R.A. to market the finest quality hand made papers made from 100% linen rag. The first papers were made by JR Jones of Afonwen Mill, Flintshire, but eventually production moved to J Green & Son at Hayle Mill, Maidstone, Kent. For reference please click here.