<![if !vml]>

<![endif]>
Tsuji Kako was born in Kyoto, and studied painting under Kono Bairei beginning in 1880. In his twenties Kako made a career as a professional painter, making a name for himself as one of the more creative talents among the Kyoto painters. He exhibited at almost every Bunten from its start in 1907, and in 1926 was appointed head of the Kyoto Municipal School of Arts and Crafts, as well as principal of the Kyoto Municipal Special School of Painting, where he had long held teaching posts. Kako was a strongly individualistic painter. His studies of water and landscape often explore the abstract quality inherent in repetitive imagery. For reference please click on this phrase.
This print shows a sparrow on a flowering branch. As for the technic Kako employed gauffrage as well as woodblock print. It is also visible that he added watercolor strokes on white flower petals and added also different hues on the sparrow's feather. This is not only a print but a painting showing Kako's subjective approach to the art of painting and innovative creation. Kako, in a traditional kacho-ga (animal and flower painting) theme brings a Western style diversity and multi-technical application as an artist of the Modernity. This print has been exhibited in Hiraki Ukiyo-e Museum (Japan) in 1998 and catalogued in Ohara Koson: Artist of Kacho-ga, Prints of Birds and Flowers.The dimensions are 15.3 x 20.5 cm including margins.
Tsuji Kako Kyoto'da doğmuş ve 1880 yılından başlayarak Kyoto resim okulunun önde gelen isimlerinden Kono Bairei'nin öğrencisi olmuştur. Yirmili yaşlarından itibaren Kyotolu ressamlar arasında en yaratıcı yeteneklerden biri olarak adını duyurmuştur. 1907 yılından başlayarak hemen her Bunten'e eserleriyle katılmıştır. 1926 yılında Kyoto Belediyesi Sanat ve Zanaatlar Okulu ile Kyoto Belediyesi Özel Resim Okulu'nun yöneticiliğine atanmış ve bu okullarda hocalık yapmıştır. Kako bireyselciliği ön plana alan bir kişiliktir. Sanatçının su ve manzara çalışmalarında kendini yineleyen bir imgelemin doğasında bulunan soyut niteliklerin araştırılması eylemi gözlenir.
Burada yer alan betimlemesi Çiçekli bir Dalın Üzerinde Konmuş Bir Serçe'yi konu edinir. Ahşağ baskı tekniğinin yanı sıra gofre ve suluboya tekniklerini kullanan sanatçı geleneksel bir Japon resim konusu olan kacho-ga(hayvan ve bitkiler dünyasının resimleri) bağlamında Batılı bir bakış açısıyla farklı tekniklerin geleneksel bir konu üzerinden yeni bir yaratı eylemine dönüştürülmesi yollarını sorgulamaktadır. Dolayısıyla teknikten bakış açısına kadar çeşitliliği ilke edinen Kako bireysel yaklaşımını başarılı bir şekilde ortaya koymaktadır bu betimlemesinde. 1910'lu yıllara ait olan resim 1998 yılında Japonya'da Hiraki Ukiyo-e Müzesi'nde sergilenmiş ve Ohara Koson: Artist of Kacho-ga, Prints of Birds and Flowers adlı katalogda yer almıştır. 15.3 x 20.5 cm ölçülerindedir.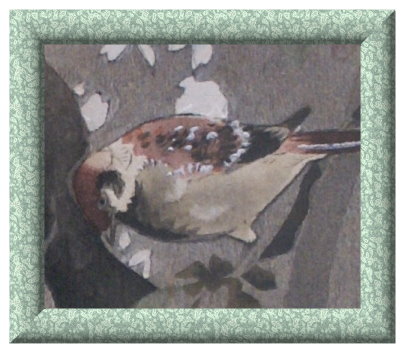 Click on the Sparrow above to read more about the life of TSUJI KAKO / TSUJI KAKO hakkında daha fazla bilgi için yukarıdaki Serçe'nin üzerine tıklayınız
Tsuji Kako, Sparrow on a flowering branch/Çiçekli dalın üzerindeki serçe, 1910

Tsuji Kako, Sparrow on a flowering branch/Çiçekli dalın üzerindeki serçe, 1910

Tsuji Kako, Sparrow on a flowering branch/Çiçekli dalın üzerindeki serçe, 1910

Artist's seal and signature/Sanatçının imza ve mührü: Kako